A Perfect Match: Kässbohrer delivers two 90 m3 tipping silos to Logistik XXL
Kässbohrer
NEWS
04/02/2016
Goch, Germany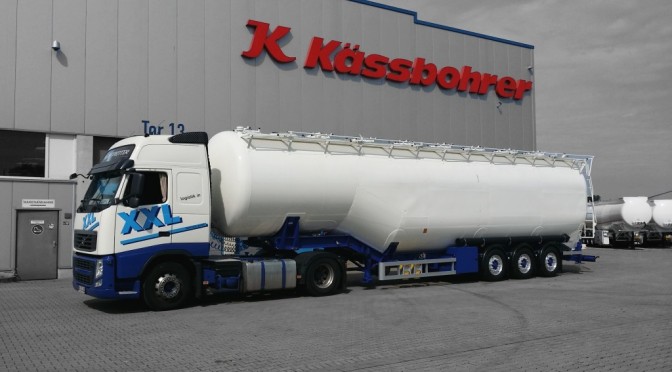 Manufacturer of Germany's one of the first tipping silos with hydraulic tipping Kässbohrer has delivered two Kässbohrer SSK.90 Tipping Silos to German logistics service provider Logistik in XXL earlier this month. 
The delivery took place in Kässbohrer Facilitiy in Goch, with the participation of Volker Asche, the Executive Director of Logistik in XXL, Michael Conrad, Sales Manager of Austrian dealer Hochstaffl Nutzfahrzeuge GmbH and Cansu Dilmen, Country Manager of European Sales at Kässbohrer Fahrzeugwerke GmbH.Logistik in XXL is a logistics service provider, specialized in general logistics, including food and beverages, automotive, steel, heavy loads, bulk loads, containers and silo logistics. The cooperation between Kässbohrer and Logistik in XXL became possible as the specialization of Logistik in XXL in knowing of the demands of silo logistics matched perfectly with the engineering power and technical ability of Kässbohrer in producing tipping silos with volumes reaching up to 90m
3
.
Kässbohrer SSK 90 Tipping Silos carry a lightweight aluminum construction with one compartment, conically ending at rear, lifted by the power of the hydraulic tipping system comprising of a front telescopic piston with a tilt angle of about 45°.