Kässbohrer Integration Protection Device wins 2nd place in Trailer Innovation 2023
Kässbohrer has proudly received the most prestigious Trailer Innovation Award 5 times in the past 3 consecutive terms. Continuing its tradition, in Trailer Innovation 2023 Awards, Kässbohrer won 2nd place in the category 'Safety' with its Integration Protection Device. Kässbohrer analyzing TAPA's risk of theft in international freight transportation, irregular migration, and human trafficking data […]

Tags: Curtainsider, digital trailer control, Innovation, Operational Safety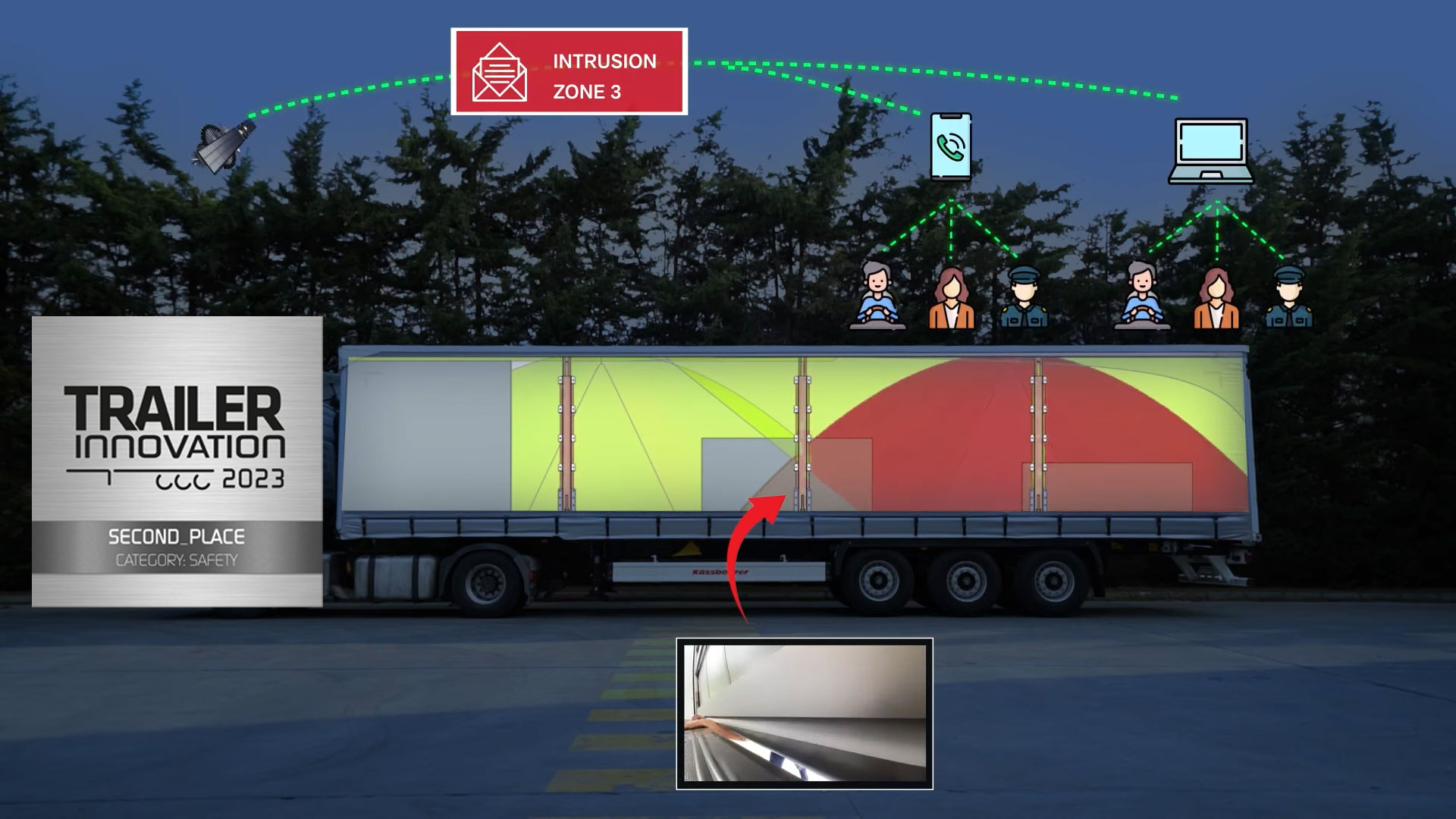 Kässbohrer has proudly received the most prestigious Trailer Innovation Award 5 times in the past 3 consecutive terms. Continuing its tradition, in Trailer Innovation 2023 Awards, Kässbohrer won 2nd place in the category 'Safety' with its Integration Protection Device.
Kässbohrer analyzing TAPA's risk of theft in international freight transportation, irregular migration, and human trafficking data and conducting field intelligence based on interviews with companies of various sizes, associations, and general stakeholders has developed an in-house safety notification system 'Integrity Protection Device', for the inner area specified detection and immediate notification of unauthorized entries to the trailer by any means, a low-cost practical device with 2 years battery life that can be installed on any trailer in aftersales workshops within the hour.
Kässbohrer's patented Integrity Protection Device detects any unauthorized entry from the side, roof, floor, or door as soon as the interior space integrity is breached. Integrity Protection Device notifies the location of the exact breach point and inner area to as many designated groups as necessary via SMS, emails, and its optional web portal while at the same time sounding audio and visual alarms.
Kässbohrer conducted extensive R&D tests and confirmed with international transport companies' road tests to confirm the functionality of the Integrity Protection Device in any environmental conditions such as dust resistance, water seal, electrical noise or vibration, and extreme temperature conditions from +70 degrees to -20 degrees.
'Integrity Protection Device' contrasts the already in market expensive, hard to maintain, complicated, and new trailer installation requiring alternatives that are often economically not feasible for transport companies to use and solves the problem of theft and unauthorized passengers, as well as conventional solution systems' problems.
In the 'Safety' category, Kässbohrer previously won the Trailer Innovation 2017 Awards with Safety Bitumen Tanker and was nominated with K.SSK Safety Tipping Silo with Smart Control