Digital Trailer Control to increase safety for curtainsider operators
Kässbohrer developed the Digital Trailer Control (DTC) unit in cooperation with OTAM (Automotive Technologies Research and Development Company) to maximize the safety of drivers and operators, by centralizing the mechanical control of different curtainsider semi-trailer equipments in a single digital control unit, while enabling the driver to monitor load distributions as well. Whereas drivers and operators have to use different equipment on a trailer such as park brake, landing gear, the folding bumper and the roof lifting for curtainsider, DTC, co-developed by Kässbohrer and OTAM, enables centralized systematic control of these functions from a safe distance and clear sight. DTC also enables drivers to monitor loads on the trailer and load distributions between king pin and axles.

Tags: Curtainsider, digital trailer control, Innovation, Safety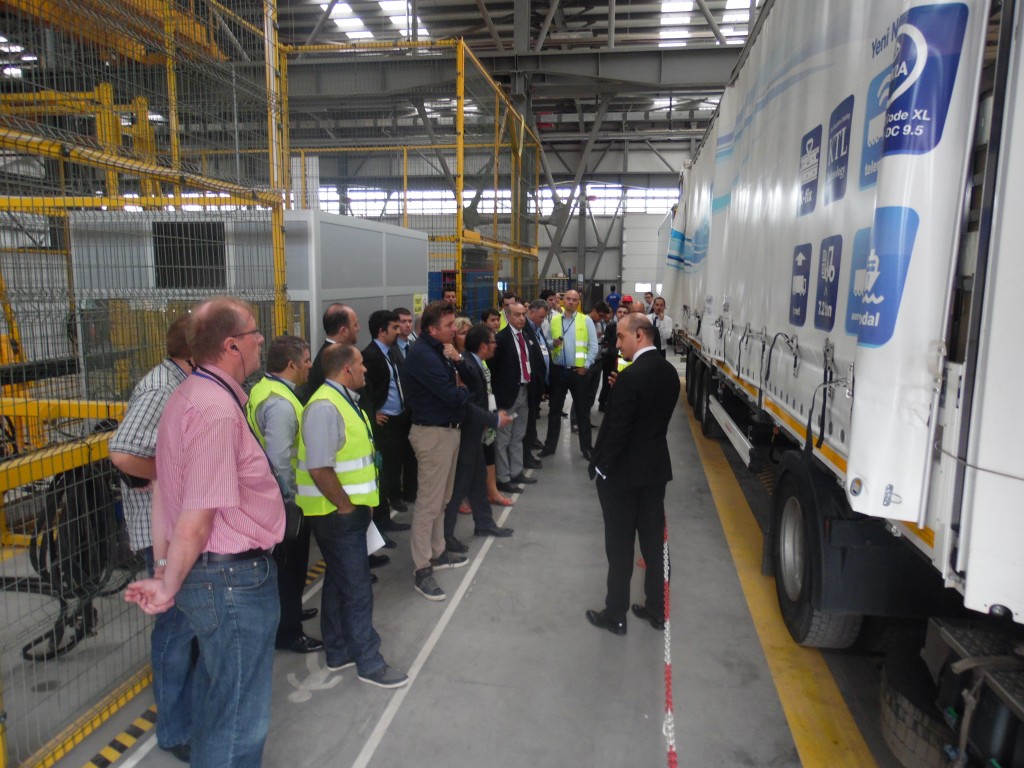 The project was born with Kässbohrer engineers deciding to increase the safety of drivers and operators during the usage of mechanical controls of a curtainsider. As an innovation project, the main challenge was to revolutionize the very traditional manual control into a centralized digital control.
After the Kässbohrer R&D team first initiated the concept development phase to define project objectives, OTAM has developed the software needed for the electronic control system. The software then used by Kässbohrer in the application of the DTC unit into the curtainsider semi-trailer. The test phase was carried out by two parties.
DTC's user-friendly interface accelerates the operations without compromising operator's safety.  DTC has alternative user interfaces. "Touchscreen", can be customized according to each customer demand according to standard equipment in his/her fleet, while comparable to smart key applications in the automotive industry, "Wireless Smart Key," is also acts as an immobilizer, in addition to system controls.
The main value of DTC is minimizing occupational injury risks which generate a substantial cost in terms of healthcare, productivity and administrative costs. Furthermore, deteriorated quality of life of the injured and his/her family is the most important cost which requires the immediate attention. As European Agency for Safety and Health at Work suggests outdoor workplaces have to be arranged to avoid injury risks, DTC can be implemented as an accident prevention tool and assist the user for a safe ride.
Regarding operational and driving safety;
DTC eliminates the risk of unauthorized use of parking brake mechanism. According to pre-sets, parking brakes can only be activated on remote control unit by entering a password.
The electromechanical landing gear can be controlled from DTC from a safe distance. DTC will either set the parking brake automatically as soon as the landing gears are fully extracted, or warn the user until the landing gears has been fully extracted.
DTC will automatically check loads on the king pin and the axles and load distributions. If there is an overloading or a wrong distribution of loads between king pin and axles, DTC will prevent trailer to move or warn driver according to pre-sets.
DTC can set the bumper (Rear Underrun Protection) position – folded or unfolded. If user forgets to set the bumper, e.g. for driving purposes; DTC will set automatically the bumper for driving position, or warn the user for the risky situation.
DTC will warn the user for improper condition of customs security cable (TIR), which might need to be reworked (cut and weld).
DTC have additional blank ports which can used to control/monitor other digital functions of trailer e.g. according to status of door sensor (if exist), DTC can warn driver if the door is open.